BlogSpot records the most recent post at the top of the page, so if you haven't seen any of our vacation pics yet, check the next post first & then come back to this one. The post below this one covers Travel Day-Vacation Day 2. This post will cover the rest of vacation!
Vacation Day 3
Another fun day of swimming, lounging, napping, hanging out, & eating more milk shakes!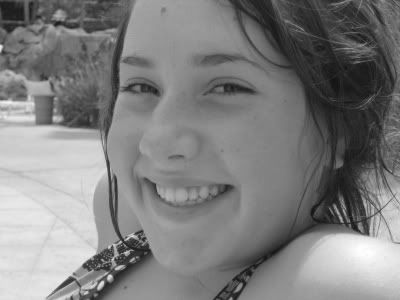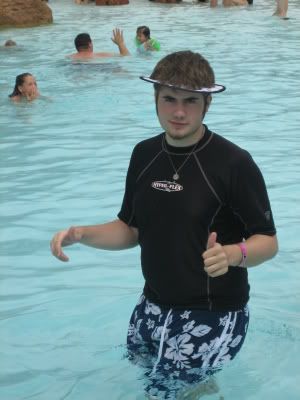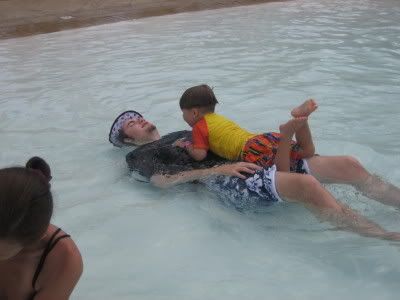 Everyone loves to hang out at the big Kids' Pool...the beach entry was great for playing!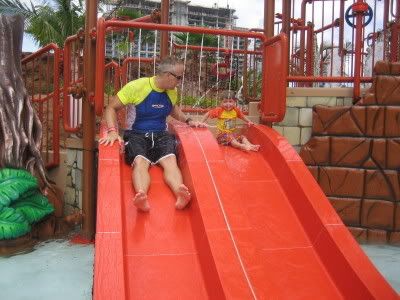 Reese LOVED going down the "big slide" with Daddy & Jessie!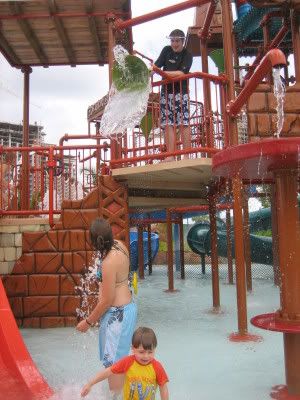 The water fort had lots of places to dump water. Jessie caught Austen in the act!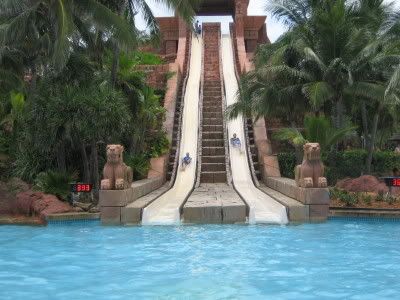 Atlantis has a big Mayan Temple in the center of their water park area, and various water slides go down each side. Jeff (left) & Austen (right) went down the racing slide, & as you can see...Jeff took the lead. They even have timing clocks at the bottom of the ride so you can see who won!

On the way to dinner our 3rd Day...passing through the casino again to make our way to the Harbor and Johnny Rocket's. In one of the corridors, there is this HUGE golden chair, so of course we had to take a picture! Usually there's a line for the photo op, but tonight there was no line...so I got my picture! We have a picture of the kids in this same chair 2 years ago, so it's fun to be able to put them side to side!



This was from March 2004....it's so fun to see how much everyone has grown in 2 short years!
Vacation Day 5/Travel Home Day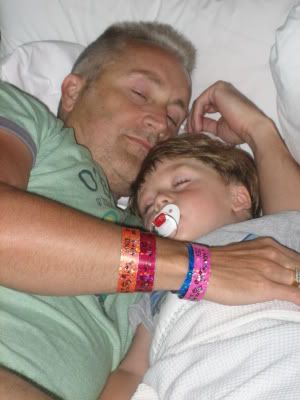 Swimming all morning sure wears everyone out! Reese took a good 3 to 4 hour nap every day! Daddy caught a few winks as well...I spent a few nap-times engrossed in a great book...Austen & Jessie watch great vacation TV & some videos we brought along. Usually after naps it would be aboug 4:00 & we would all get moving & head out to an early dinner.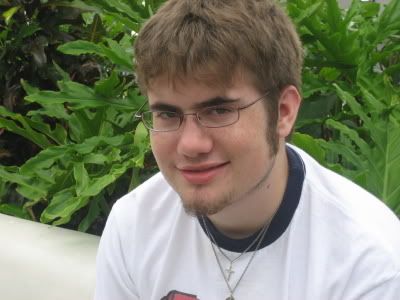 True to form, we headed to Johnny Rocket's for milkshakes & dinner, then stopped by the live band to listen a bit. Tonight was a cheesy lounge-singer type guy, so we didn't stay very long. Just long enough to snap a few cute pictures of the kiddos...

Then it was off to bed & up in the morning to head to the airport for our ride home.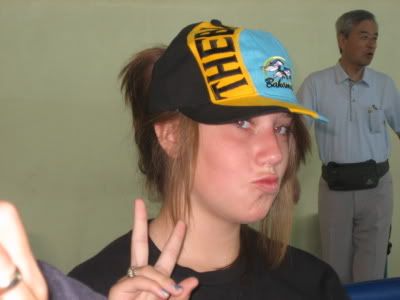 Not wanting to leave the Bahamas without a cool souviner, Jessie chose a hat from the airport gift shop. Would have been MUCH cheaper if we had remembered to pick up something at the hotel :) Our flight home was GREAT. Thanks to all the traveling Jeff does, we're often able to upgrade our tickets for first class seats...and this flight worked out that way! The flight equipment had been changed, and our plane was now a 767...which meant that first class seats had leg rests that came up & seats that reclined to almost horizontal. GREAT napping position for Reese, and wonderful relaxation for Austen & Jessie as the watched Shrek together on our DVD player. Jeff & I commented later that it was so nice that Austen & Jessie get along SO well. They each had 1 earpiece of the headphones & were watching the movie together...sharing...so good to each other. I wish I could say that the lunch on the plane was just as great as everything else, but needless to say, airplane food just stinks. I was able to convice Reese that the cold turkey on croissant sandwich they served was Subway (his FAVORITE!) so he filled his belly. But I think the rest of us just picked around the lunch...
I can't believe it took over a week to get all this on the Blog! BlogSpot.com has been having some serious technical difficulties & I've had to code each picture in order to get them posted instead of just inserting them like normal...so it's taken MUCH longer to make a post, especially with so many pictures.
Keep checking back regularly...I love posting pictures of our family & the daily happenings around the Williams household. Who knows what will be next!