I've been bad about posting during December...so below you'll find a quick update of pictures from things that have happened this month! Where did December GO? Merry Christmas to all our family & friends!!!
---
We're taking Reese to see the Doodlebops in January, & I found a Mo costume on EBay for cheap.
Doodlebops=an obnixious Canadian band trio.
Mo=the red haired drummer who Reese wanted to dress like.
---
Jessie had her birthday party at our house the first weekend of December. We rented a limo & everyone went to GameWorks for video games, then to Taco Bell for dinner (to say hi to Austen while he was working!), then back to our house for goofing off. I think it's safe to say they all had a great time, and luckily our bedroom is on the other side of the house & we didn't hear giggling girls who were up all night!
---
We took a trip to Disney World the first week of December, & check out what Reese got to do! While in line with Daddy at the airport McDonald's, Reese met the pilot of our plane & Pilot Scott told Reese to come by the cockpit before takeoff to check it out. They sure let him do more than just "check it out"...he got to sit in the pilot seat, wear an official hat, & grab the controls. What a neat experience!
Daddy & Reese at Disney on Reese's favorite ride. It's a riot watching him try to drive. Poor Daddy gets whiplash every time because Reese just bounces back & forth along the track.
Checking out the airplane safety brochure on the plane.
---
On Friday, December 15th, Reese's GGPa (great-grandpa) passed away unexpectedly. We spent the past weekend/week in Round Rock with GGMa & Grammie. We will miss GGPa more than words can express...But I know that as GGPa watched from Heaven, he was smiling at the time our family spent together while in Round Rock.
Kyla lives across the street from GGMa and her parents, Seth & Melanie, have become like family to GGMa and Grammie. Reese just loves to see Kyla when we're in town, & I've been told that Kyla gets very upset if she visits GGMa and Reese isn't there!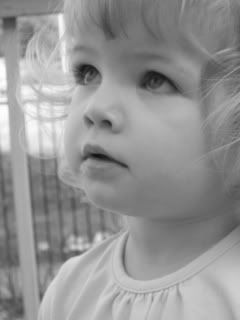 When I grow up, I think I would like to maybe be a photographer. I love capturing candid shots of Reese, & Kyla proved to be a precious photo op as well!!!
Uncle Jeff playing the djembe. Reese hasn't seen Uncle Jeff in about 2 1/2 years, so it was wonderful to see him.
OK....what other Grammie has a full drum set at her house? Reese loves to have his "Gramma Jamma Ramma"...he plays the drums and Grammie & I usually play the flute or tambourine or whatever other insturment Reese thinks we should play that day. I think Grammie definitely scores points in the Cool Grammie category :)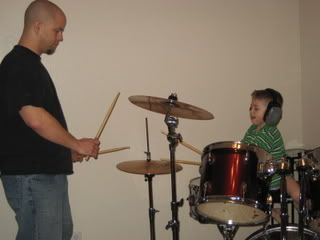 Uncle Jeff & Reese playing the cymbals together.